Sports News
Key Stage 2 Hockey Tournament – 17th November 2023
Last Friday, St Norbert's hockey team played their second tournament of the year at Surfleet. All members of the team arrived in great spirits keen to put their training into practice.
Starting strong they won the first game 2-0. Second game also went well and a win of 1-0. The team kept working hard during the third game, unfortunately they lost the game 0-2. Rallied by their coach, the team came back for their final game and earned a well deserved draw 0-0.
They should be proud of their teamwork and encouragement towards each other.
Well done to the team: Melanie, Guste, Finley, Ethan, Noah, Affan and Oliver.
Year 3/4 Football Tournament –  3rd October 2023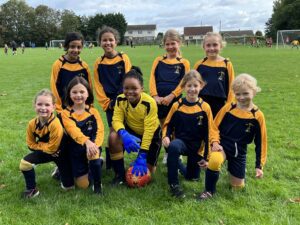 On Tuesday 3rd October the Year 3 and Year 4 Girls football team took part in a Football Tournament at West Pinchbeck Park. The girls were all a little apprehensive having never played a competitive match before. They all shared their excitement and energy in the warm-up and began to feel more confident as all the teams began to arrive on the field. Our first match was a tough game against Tower Road, as their girls showed our team how you score goals! As it was our first tournament we brushed ourselves off and proceeded to play against the next School, St. Bartholemew's and had a really good match, passing the ball, saving goals and beginning to play as a team! Our final match was against Spalding Primary – we were ready and energised! The girls set off at lightening pace to move the ball forward and use our team to score the goals! We couldn't believe it – we were actually scoring goals against another team and winning! The girls were so delighted it carried them through to the semi-final match with such confidence and they knew it was a knock-out, so they had to win or go home! Our girls worked really hard to stay in the match and the end score was 1-1! So the team went into penalty shoot out to decide whom would go through to the final. The three Year 4 girls all took a penalty and we scored one goal. Our goalie had to do her job and save all the goals…and she did! We made it to the Silver Cup Final! This match was really tough and although we had four shots at goal, none of them went in and as our legs grew tired the other team broke through our defence and scored! As a team we were both saddened by this but also overjoyed to have achieved soo much all in one day – arriving with apprehension about playing competitively and going home Football Finalists! Wow- we are so proud of you girls. Well done.
St. Norbert's Football Team – Super League
On Tuesday 26th September a team of 7 travelled to Market Deeping for our second league game of the season. The team worked really hard against a strong team and although coming away on the wrong end of the scoreline they scored 2 fantastic team goals and both of our goalkeepers made some terrific saves to deny the opposition. Good effort everyone!
After School Clubs – Chess Club
One of our highlights of the clubs we offer is Chess. A great strategy game which develops the children's ability to think ahead; consider their options and pre-empt their opponents next move. This club has supported and extended children's ideas of strategy both within chess but also being applied in invasion game situations like: Tag-Rugby; Hockey; Football; Netball and Kurling.
After School Club – Running Club
One of our most popular clubs offered is running club which began with sixteen children and has steadily grown in popularity over the term with a capacity of 40 in attendance! Children from all sporting and fitness clubs love to join in the running as it challenges their capacity to go beyond their limits; run with friends in a safe environment and challenge each other to improve or go further. We have enjoyed a range of running games; running sprints; speed training; Cardio and fitness training and dance! Running often requires a good warm-up and a warm-down at the end of each session and we have found that dancing often allows this to take place and the children enjoy it so much! We have seen the fastest girl in Year 6 become the fastest girl in the local area through the Cross country championship – we hope to emulate this again in the spring with our current runners making up the new squad.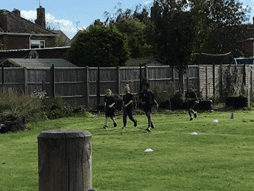 After School Club Dance
Each term we have a leading Dance Teacher and Choreographer working with our children. Miss Wilmot works with us during the school day to teach Dance across the curriculum but also offers an after school provision to consolidate, support and extend our pupils skills through contemporary dance movements and choreographed pieces – great when each component is put together and shared to the school audience.
Swimming
Swimming is an important life skill – why not book your child in for swimming lessons at the local swimming pools?