Sports News
Hockey Tournament – Round 1 – 7th October 2022
Our newly formed Hockey Team were selected from Year 4, 5 and 6 to represent the school at the Spalding Primary Schools Hockey Tournament. The Team, have been trained during their lunch breaks by Mrs. McMurray and supported through an after school club provision. The children were all keen and excited to be putting on the new Team Kit and fitting their mouth guards as they took to the pitch to play against Gosberton Risegate; Gosberton Academy and Surfleet Primary School.
The team were amazing in their sporting conduct, sharing great sporting conduct in defeat and using resilience to challenge themselves more in each match. We look forward to Spalding Hockey Tournament Round 2!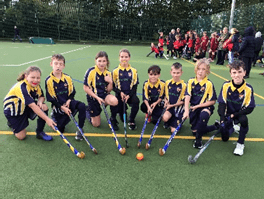 St. Norbert's Football Team – Super League 27th September 2022
St. Bartholemews 1 – St. Norbert's 0
St. Norbert's Year 5 and 6 Football Team got off to a steady start in their football season playing their first match against St. Bartholemews  Primary School.
The match was very tense, with a number of near misses across the goal. St. Bartholemews Team dug-in deep and began to create space through their passing skills and were able to secure the win. The boys were disappointed but able to recognize that their defence in the first half held of the opposition whilst their lack of passing let them down in finishing off any set pieces.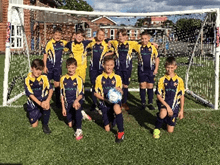 St. Norbert's Football Team – Super League 13th October 2022
St. Norbert's 1 – Gosberton 0
Following our weekly lunch time Team Training sessions and After School practice, St. Norbert's Year 5 and 6 Football Team got off to a good start in their match against Gosberton. The Team played an increased passing strategy and were able to place the ball more accurately with each of their players. The defence maintained a hard line across the goal passing the ball up the field to awaiting strikers. During the 2nd half the dead-lock was broken and St. Norbert's scored their first goal in the league! Euphoria broke out as it had been a long time coming, however, the team composed themselves well to show respect to their opponents at the final whistle sharing three cheers for Gosberton! Well played boys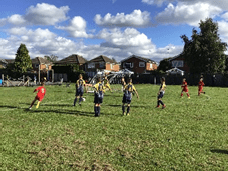 St. Norbert's Football Team – Super League 17th October
St. Norbert's 4 – Wygate Academy 0
Our Final match of our Advent 1 term was against Wygate Academy. The boys had been training hard to improve their passing skills and share their ability to move the ball quickly up the pitch. Our 'two-tap' game strategy ensured that the boys were more aware of their team and passing the ball to set up greater opportunities for those in space. This strategy worked well as the ball and game moved at pace and kept the opposition on a back foot – within no time at all the score board was ringing out to the tune of goal after goal – a great way to end the term and a great way to play as a team – passing the ball has created our success. We thank the parents and helpers for their continued support at matches and organizing hospitality for the visiting team. Well done boys – we look forward to next term.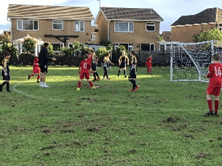 After School Clubs – Netball & High Five
One of our popular after school clubs and lunch time team provision is netball. The Sports Premium funding has enabled us to support the teaching and delivery of Netball through highly qualified coaches and additional equipment, court markings and improved understanding of the game rules. Team practice is attended by boys and girls across KS2 and further 'grass-roots' training takes place at the after school club weekly.
After School Clubs – Chess Club
One of our highlights of the clubs we offer is Chess. A great strategy game which develops the children's ability to think ahead; consider their options and pre-empt their opponents next move. This club has supported and extended children's ideas of strategy both within chess but also being applied in invasion game situations like: Tag-Rugby; Hockey; Football; Netball and Kurling.
After School Club – Running Club
One of our most popular clubs offered is running club which began with sixteen children and has steadily grown in popularity over the term with a capacity of 40 in attendance! Children from all sporting and fitness clubs love to join in the running as it challenges their capacity to go beyond their limits; run with friends in a safe environment and challenge each other to improve or go further. We have enjoyed a range of running games; running sprints; speed training; Cardio and fitness training and dance! Running often requires a good warm-up and a warm-down at the end of each session and we have found that dancing often allows this to take place and the children enjoy it so much! We have seen the fastest girl in Year 6 become the fastest girl in the local area through the Cross country championship – we hope to emulate this again in the spring with our current runners making up the new squad.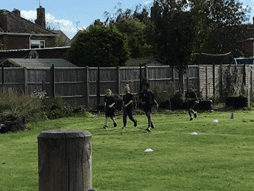 After School Club Dance
Each term we have a leading Dance Teacher and Choreographer working with our children. Miss Wilmot works with us during the school day to teach Dance across the curriculum but also offers an after school provision to consolidate, support and extend our pupils skills through contemporary dance movements and choreographed pieces – great when each component is put together and shared to the school audience.
Swimming
Swimming is an important life skill – why not book your child in for swimming lessons at the local swimming pools?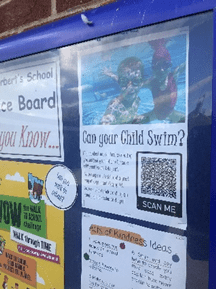 Sports Report – Girls Football Match vs Crowland SouthView Primary
On Tuesday the 28th February the girls football team took part in an away match against Crowland Southview Primary School. The girls played 20 minutes each way and were up against a tough side. They began their match with words of wisdom ringing in their ears 'Defend our Goal!' They diligently took on this advice and were instrumental in tackling and defending their goals. Our goalie, Wiktoria, saved many attempts on goal and prevented the Crowland girls running away with the match. Ruby, Nicola and Mbali created a number of runs on their goal with a beautifully positioned pass through to Melanie who scored our one and only goal. The Crowland girls managed to sneak four goals past Wiktoria before being stopped by Chloe, Guste and Eva in defence. Kristella rallied the girls into a positive mindset with her encouraging songs and big smiles as we ended the match 4-1 to Crowland. A great ending for our second match – we look forward to our next matches on the 13th and 23rd March!
Sports Report – Netball Match – Vs Gosberton Academy
Our Netball A-Team took part in a Super League Netball match against Gosberton primary school on Thursday 2nd March. Our team consisted of three girls and three boys – 5 players on the court at any-one-time. We took control of the match in the first quarter scoring a number of nets through exceptional team work from our captain, Mbali, passing the ball through to Harry, Brajan and Chloe. Defending our net were Nicola and Charlie as they rotated their positions through each position to end the match with an astounding 16-0 score card! We are super proud of the team work and the game play – well done Netballers!