Phonics
Systematic Synthetic Phonics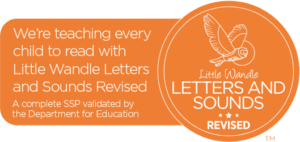 Our school has chosen Little Wandle Letters and Sounds Revised as our systematic, synthetic phonics (SSP) programme to teach early reading and spelling.  On this page you will find information on what synthetic phonics  is and how you can help your child develop this vital skill.
Phonics is one method of teaching children how to read and write. It's all about sounds. There are 44 sounds in the English language, which we put together to form words. Some are represented by one letter, like 't', and some by two or more, like 'ck' in duck and 'air' in chair. Children are taught the sounds first, then how to match them to letters, and finally how to use the letter sounds for reading and spelling. Synthetic phonics refers to 'synthesising', or blending, the sounds to read words. It's based on the idea that children should sound out unknown words and not rely on their context.
Systematic synthetic phonics teaches letter sounds very rapidly, explicitly showing children how to build up words with letters from the start, and always includes blending with printed words. When teaching spelling this process is reversed  i.e.
• Children hear a word, e.g. "cat" and say it.
• They say the first phoneme: /c/.
• They write the corresponding grapheme: 'c'.
• They say the word again and say the next phoneme: /a/.
• They write the corresponding grapheme: 'a', and so on.
This process is known as segmenting and is followed by the children reading the word they have produced by sounding and blending. In our approach, both blending for reading and segmenting for spelling are fully scaffolded. We model for the children how to sound and blend words for reading, but in each lesson children must attempt to sound and blend words for themselves to find out how they are pronounced. We also model for the children how to segment for spelling and continue to scaffold the children through the process with each word they spell. This ensures that they identify each phoneme and choose the appropriate grapheme in turn, until the word is spelt.
Further support can be found on the Little Wandle Website page to help you support your child with saying their sounds and writing their letters. There are also some useful videos so you can see how they are taught at school and feel confident about supporting their reading at home.
Little Wandle Letters and Sounds Revised 2021: Programme progression Reception and Year 1 overviews
This programme overview shows the progression of GPCs and tricky words that we teach term-by-term. The progression has been organised so that children are taught from the simple to more complex GPCs, as well as taking into account the frequency of their occurrence in the most commonly encountered words. All the graphemes taught are practised in words, sentences, and later on, in fully decodable books. Children review and revise GPCs and words, daily, weekly and
across terms and years, in order to move this knowledge into their long-term memory.
Children need to learn to read as quickly as reasonably possible, so they can move from learning to read, to reading to learn, giving them access to the treasure house of reading. Our expectations of progression are aspirational yet achievable if schools maintain pace, practice and participation by all children. Children who are not keeping up with their peers should be given additional practice immediately through keep-up sessions.